St Patricks Day Festival 2007
St. Patrick's Day Dublin, Ireland's National St. Patrick's Day Celebrations
MARCH 15th - 19th 2007
Dublin, Ireland
Sometimes it seems that the whole world wants to be Irish and on March 17th. As one of the most recognised national holidays on the global calendar, St. Patrick's Day is a great excuse to party with no better place to celebrate than Ireland's thriving capital city, Dublin.
Being Irish, celebrating for a day is not enough; now Ireland's national holiday was marked by a 5-day Festival. From March 15th – 19th Dublin rocks to a Celtic beat for a carnival of monumental proportions celebrating all that is great about Ireland.
There was a street theatre, music, dance, comedy, film, a treasure hunt, Irish language events, family fun and of course the best St. Patrick's Day Parade in the world. As a highlight of the Festival, the Parade presents innovative street theatre troupes, artists, giant puppetry, dancers and marching bands from Ireland and across the globe. The Festival programme offers something for all tastes and ages - and remember most of the events free of charge, so there's no excuse for not joining in.
More than one and a half million people, including 40,000 visitors, join the locals to experience Festival fever every year. No one throws a party like the Irish; so you are guaranteed a week you'll never forget and you never know, you might even see some leprechauns!
Unfortunately this year the Sky Fest fireworks display was cancelled due to bad weather and high winds but that did not dampen the spirits of the thousands of people celebrating the St. Patricks Festival in Dublin, Irelands Capital City.
St. Patrick's Day Festival 2007 – Programme of Events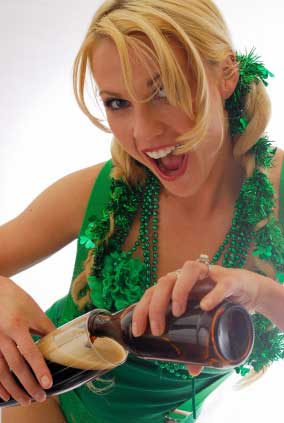 Thursday 15th March
Opening Night Spectacle – City Centre
The Festival opened with a stunning Night Spectacle involving colourful parades, music, dance and a thrilling finale.
Friday 16th March An Lá Gaelach, Dublin City Centre
An exciting event which promotes the Irish language among visitors and residents who need to brush up on their Irish. Participants will follow an informal itinerary of workshops and entertainment conducted through Irish. Details will be posted on the website in January; booking will be required for some workshops.
Saturday 17th March St. Patrick's Festival Parade, City Centre
The biggest and best in the world! For over two hours the city was entertained by a breathtaking display of creative talent as the Parade weaves through the city centre. Irish street theatre companies, ceremonial groups and international marching bands will create an exciting carnival atmosphere.
The Céilí Mór, Earlsfort Terrace off St. Stephens Green
This head-spinning, foot-twirling afternoon of Irish dancing was a uniquely Irish phenomenon. Thousands of people were kicking up their feet to the infectious music at the largest outdoor Irish music and dance event in the world.
Barabbas' 40 Songs of Green -
The National Concert Hall,
Earlsfort Terrace
St. Patrick's Festival presents a hilarious evening of clowning and song. Enjoy this musical celebration of "Irish-ness" played by 200 singers and five Barabbas actors/clowns. Musically impressive, culturally illuminating and very funny...this is an evening of theatre - concert style!
Sunday 18th March Treasure Hunt, Dublin City Centre
We can't promise that you will find any hidden treasure but there's no better way to discover the magical charm of Dublin than by searching for clues in this thrilling treasure hunt. You can pre-register on www.stpatricksfestival.ie and beat the queues on the day.
Monday 19th March Big Day Out, Merrion Square
Bring the whole family to the heart of Georgian Dublin for one of the Festival's most popular events. On this fun day out you never know whom you might meet: cavorting clowns, savvy street performers and madcap music and it's all for free.
For more details please visit the official St. Patricks Day Website